Commissions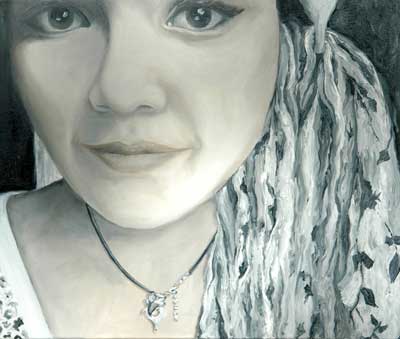 It is very important to me to discuss all elements of a portrait commission before the painting process begins ... sometimes, what makes a good photograph doesn't make a good painting. I want to sit down with my clients and discuss poses, clothing choices, jewelry - all the details of the painting and composition - before I accept the commission. This ensures that everyone is on the same page with regard to the portrait process. Exceptions can be made, for instance, when a treasured family photo is desired as a portrait, but I prefer to photograph the client myself to have a large range of photos from which to choose and work.
Thus, I prefer to start every portrait process with a session of photography and conversation, discussing the portrait to come, and allowing me an opportunity to get to know my sitter, so as to make the portrait more accurate to my sitter's true personality. I will take many photos during this session, all of which are kept and seen by me alone, and are only used for reference purposes. If I wish to use a photograph for any other purpose, I will always seek the written consent of the sitter. I will provide copies of the most exceptional photos to my sitters as part of the portrait fee.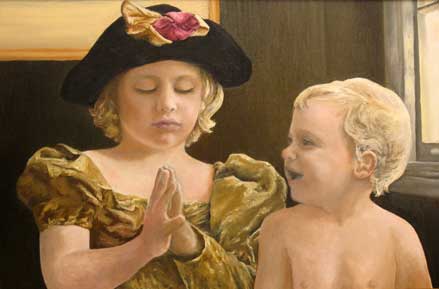 I don't charge extra fees for the initial session, as it is part of the commission fee, but I require travel expenses if the location is further than 40 miles from my home. These will be discussed before the commission is charged, if needed.
I will work from life, though that can be a difficult process for the sitter, and often requires additional work from photographs I've taken. Photographic references are always required regardless of whether the portrait is painted primarily from life or from photographs alone.
When the painting is finished, I will deliver it personally or by insured carrier, crated for safe transport and delivery.
The client is responsible for delivery costs. Work is delivered unframed unless by prior arrangement.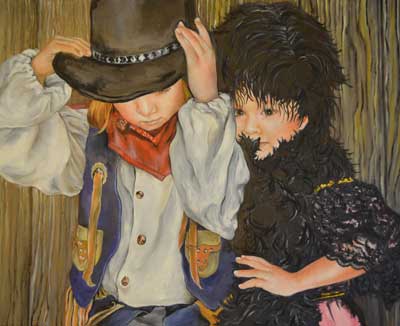 Delivery usually takes between two to six months depending on the portrait's size and complexity.
I absolutely want every client to be completely pleased with their portrait, and I will rework portraits when needed. I require portraits to be 'lived with' for a month before being returned for reworking, as that often allows one to see beyond the desire for photographic realism and view a painting as a combination of a likeness and a work of art which is separate from reality. If reworking is desired, I will do the work for no additional charge, but the client pays the additional shipping required.
Fees are subject to change, but are unchanging once the 50% downpayment is received (which is required to begin the portrait process). The balance - including any additional charges, such as framing, shipping, etc - is due upon delivery of the portrait. Travel expenses are due when they are incurred. Framing expenses are additional, and are not included in the listed prices.
Black and white charcoal or pencil portraits are 1/3 the price of oils.
Each additional figure on one canvas adds 75% to the listed price.